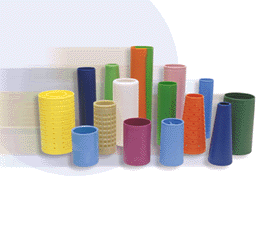 Textube carriers may be plastic injection molded hollow tubes, but they're packed solid with innovation made possible by technical expertise in plastics, mold engineering, surface engineering and manufacturing technologies–innovation born out of hands-on knitting, weaving and yarn preparation know-how. Our green initiatives include in-house recycling of sprues as well as a program to 100% recycle the carriers after the re-use in the customer facility is no longer viable.
We offer the best combination of performance, cost-effectiveness and recyclables to provide the highest value in injection molded textile carriers available. Every plastic Textube carrier reflects an individual solution designed to provide a custom injection molded solution.
A variety of colors to aide in the injection molding production process and recycling of the product are available. Combined with an unequaled understanding of the weaving and knitting processes, our sales department will work with you to develop a marketing plan to move from paper to plastic carriers, generating additional cost savings to your company as well as lowering your carbon footprint on the environment.
Seldom does a plastic product that costs only a few pennies come with such a wealth of application expertise, paying off in uniform, consistent yarn packages, satisfying processors with smooth running performance from tail to tail in weaving and knitting while providing an opportunity for a positive impact on the environment through recycling.
Yarn Carriers for Spinning
Bobbins/Cones/Spin Tubes
Specialty Cones and Cylinders
Carpet Cones and Cylinders
Two-Color Products
Custom Options